eliza3522
GALA Web Projects | 1996-1998

Back in 1995, the Internet was a novelty to most Americans. Practically overnight, people started flocking to the web in droves. The Internet became mainstream, even hip. Suddenly, information could be disseminated faster and cheaper than ever before.
GALA realized that a website would be an effective method to interact with Melrose fans and discover whether anyone was noticing the cryptic images popping up in the backgrounds.
Heather Champ, one of the genre's first "hot" web designers, was brought in to make it happen. The result was "Eliza": a fictional Melrose fan created by GALA who noticed "strange things" appearing on the Melrose sets. Eliza made it her mission to document these anomalies on her homepage. She became a "mule" for GALA: leaking detailed information about the hidden messages she had "discovered" while watching the show, all in the interest of arousing speculation with on-line Melrose fandom.
GALA's second web project was designed after the exhibitions in Los Angeles and Korea. Sotheby's agreed to a GALA auction, with proceeds to benefit women's scholarship funds. GALA collaborated with a design company in North Carolina to design a site to advertise the charity auction and allow fans to purchase a copy of the Sotheby's auction catalog.
If you'd like to see what these websites looked like, simply click either of the icons below.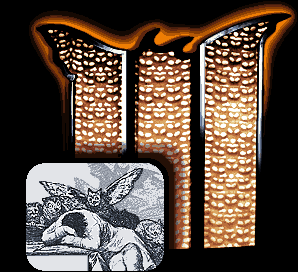 The sleep of reason produces monsters
- Francisco Goya